PHSAA Home Page
Lewis Jetton performed at Peabody's 2013 Homecoming Tailgate Party sponsored by the Alumni Association and several individual members who were honored as PHSAA Sponsors. Sporting a #64 jersey, Lew Jetton and 64 South played for almost 2 hours prior to the game. Barbeque sandwiches were available and there was a lot of catching up during their set. The Alumni Association hopes to make the tailgate party an annual event.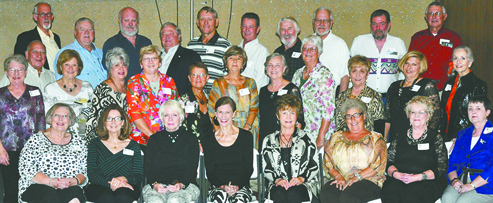 The class of 1963 had a big celebration for their 50th reunion in conjunction with the PHS Alumni Association 2013 Annual meeting and Peabody Football's Homecoming weekend.
I cannot impress upon you enough the importance of paying your annual dues and donations to the scholarship funds (see enclosed sheet). Any PHS graduate and their children are eligible to apply for a PHSAA scholarship. Even if you are not planning to attend this year's reunion, please strongly consider paying your $10 dues and any other donation you would like. I hope to see you in October!
Sincerely,
Terry Brown
Class of 1972
If your email address is not included in the PHSAA database PLEASE send it to PO Box 33, Trenton, TN 38382 so that it can be added. We are leaving the registration form on the website so that you can print it out and send in dues. They are NEEDED and APPRECIATED to keep YOUR Alumni Association alive.
PHSAA Scholarship Winners
To watch the Powerpoint presentation given by Tim Haney of the 2013 Scholarship Winner click here.
We are adding the date of birth to our information for the registration forms this year so we can include it in our membership database. This information will be used to assist us with tracing members who do not inform us of their new address when they move. This information will NOT be used for any purpose other than the alumni association. The company that keeps our database does not sell their information or use it for any purpose other than keeping track of and communicating with our alumni. Your cooperation in providing this data as well as the year you graduated (or would have) is essential to keeping our database accurate. Thanks for your help!
The officers of PHSAA would like to stress that you do not have to attend the reunion meetings to be a member of the alumni association. The $10 membership dues help to pay expenses and a percentage also goes into the general scholarship fund. If you or someone you know would like to become a member we will gladly put you on our list.