Walter Kilzer Stadium
Coach Walter Kilzer passed away on September 15' 2008. Known to many as the "Dean of football coaches in West Tennessee'" Coach Kilzer played championship football for Peabody' at Vanderbilt' and then at Georgia Tech for Bobby Dodd and was a teammate of longtime Arkansas coach and AD Frank Broyles. He coached at Trenton for 31 years before retiring and then coaching at Old Hickory Academy/USJ before retiring for good in 1988.
Long-time and highly-respected PHS football coach Walter Kilzer has been honored with the designation of the stadium in his name. It will henceforth be known as Freed Field / Walter Kilzer stadium. He coached the Tide for 34 years' 31 of which were as head coach.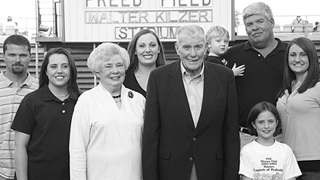 "Coach's" family gather around him as the stadium is dedicated in his name. Pictured is Coach Kilzer, his wife Dot and their family.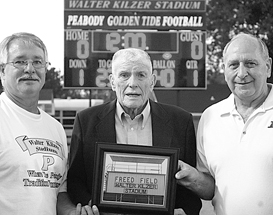 Two of Coach Kilzer's former players present him with a picture of the Freed Field press box with the "Walter Kilzer Stadium" designation added to the sign. Left, Terry Brown and right, Jimmy Milligan.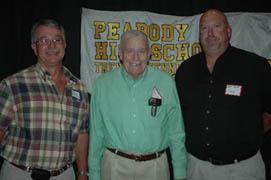 Current PHS football coach Kent Scott and Terry Brown make the surprise announcement of the naming of the PHS football stadium in honor of former coach Walter Kilzer. Coach Kilzer and his lovely wife Dot were deeply honored by this announcement.
Special Delivery Video
Click to Watch&nbsp A video of Game Ball delivery on opening night of new stadium. August 26, 2011. Video shot by Michael Poteet.